Happy Wednesday!
There is a live challenge over at Crafty Gals Corner Blog. The theme for this challenge is:
~ Thank You / Thankful ~
Our sponsors for this challenge are:
(listed in alphabetical order)
Prize ~ 2 Digital Images
**********
Prize ~ 3 Digital Images
**********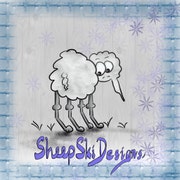 SheepSki Designs
Prize ~ 3 Digital Images
First, I must apologize for my lateness in posting my creation for the challenge. My family and I were impacted by Hurricane Ian and then again by Hurricane Nicole. Although I feel fortunate to be less impacted by these storms than some, this has been a learning experience. The time involved...the grief and overwhelming impact to our daily lives is something I must take on a day by day basis. Thank you for stopping by my blog. *hugs*
I used the digi and multiplied it in rotating directions to create my card base. The card base was printed on MFT Khaki card stock.
The digital was used a stand alone to help create the focal greeting. Since I am not a great graphic artist, I used my Silhouette Studio Software to create it.
The inside of the card is simple....just a continuation of the front greeting...to finish the thought..and to tie in the toilet paper image. *laughs at self*
Thank you again for stopping by and good luck on your entry!